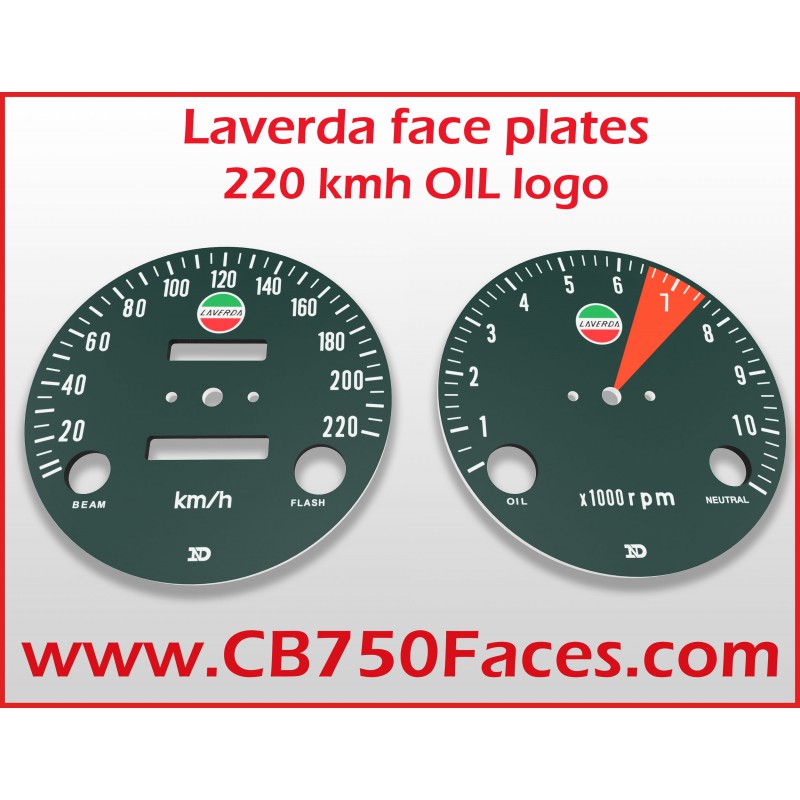  
Laverda SF face plates km/h, with logo, OIL tacho
Laverda SF faceplates for ND gauges KILOMETERS/hour, with Laverda logo. The tacho meter dial in OIL version.
Excellent reproduction of the Laverda SF face plates in kilometers version with Laverda logo. Every detail has been designed very accurately to achieve an exact copy of the original face plates. With this set you are able to restore your gauges to the manufacturers standards. 
The first series Laverda SF with the green ND gauges had OIL in stead of GEN on the tacho meter face plate. The speedo had markings until 220 km/h. Although this light is a generator warning light, and the oil marking was wrong, these face plates with OIL marking represent the originally applied face plates.
If you want a tacho face plate with GEN in stead of OIL, please find these here ...
The faces will be supplied with or without jewels. You can re-use the jewels from the faces you replace or select the option Set of four jewels: included.
The tacho meter dial in OIL version.
These face plates are also available in miles per hour version.
The set contains one face plate for the tachometer and one for the speedometer (kilometers per hour).
If you don't have the tools and/or experience to do it yourself, please consider our professional Restoration services (click here for more info)
Data sheet
Product type:

Face plates

Bike type

Laverda
No customer reviews for the moment.
Customers who bought this product also bought: