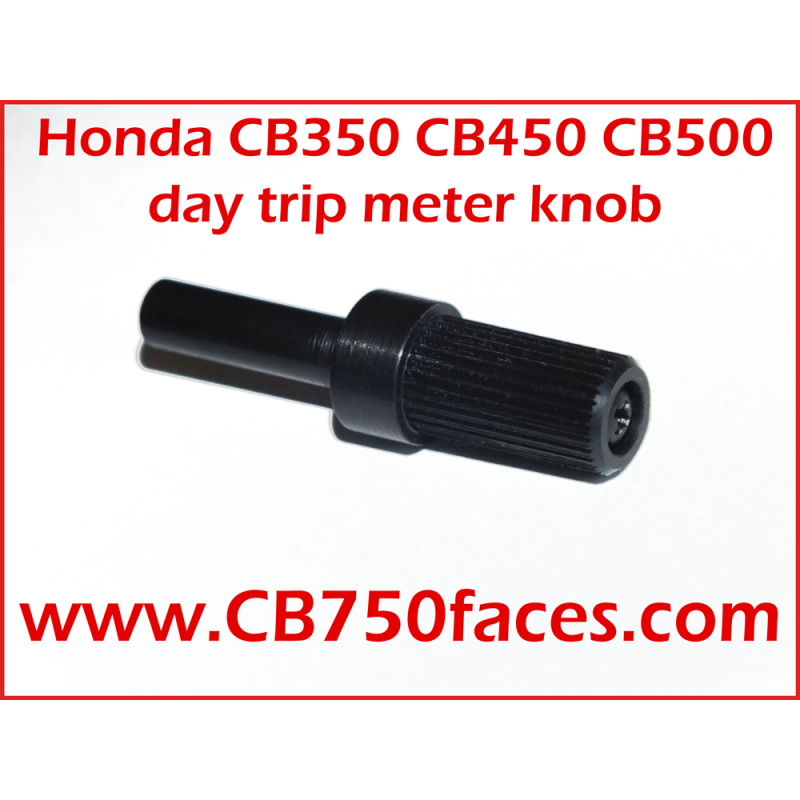  
Honda CB350 CB450 CB500 Tripmeter reset knob with shaft
High quality reproduction of the tripmeter reset knob with shaft for the small Honda CB350 CB450 CB500 speedometer (and many other Honda's)
High quality reproduction of the tripmeter reset knob with shaft for the small Honda CB350 CB450 CB500 speedometer (and many other Honda's) 
These knobs with shaft are often lost from the speedo and no longer available from Honda. This reproduction knob with shaft is the finishing touch for your precious speedo meter. This reset knob can easlily be fit by screwing it to the reversed M3 internal thread (see pictures). Use Loc-tite to avoid losing it again! Fits to the following speedo meters:
Honda CB500 K0/K1
Honda CB450
Honda CB350
And many other small Honda speedo meters
Always compare this knob with the knob you have now. If the knob is too different, it probably won't fit. If you are not certain, please ask us.
If you don't have the tools and/or experience to do it yourself, please consider our professional Restoration services (click here for more info)
Fiche technique
Product type:

Other products

Bike type

Laverda
Aucun avis n'a été publié pour le moment.
Les clients qui ont acheté ce produit ont également acheté...